4 beautiful and efficient patio balustrade ideas
Balustrades and railings are an essential safety feature for your patio, but they can also transform your space and provide privacy from your neighbours and neighbourhood buildings.
Balustrades are also great for creating featured areas and to zone off the patio area from the rest of the garden or home. This can also work perfect for sectioning your patio as a dining or barbecue area if you want to separate it from the rest of the garden.
Balustrades, railings, and handrails can be fitted to many different patio designs and can give your patio a fresh new look. Discover our favourites, from frameless modern balustrades to wire rope balustrades:
Frameless glass panels for a clear view
Glass panels are perfect for front-facing patios. If your house is surrounded by lovely views, the best choice would be our Frameless glass balustrade system to keep the views unobstructed.
Whether you currently have railings or not, the change to glass panels is always a stunning property transformation. Renovating your outdoor spaces with glass is an easy way to add class. Another massive benefit of choosing glass balustrade systems is that they will increase the value of your property.
Barely there: Wire rope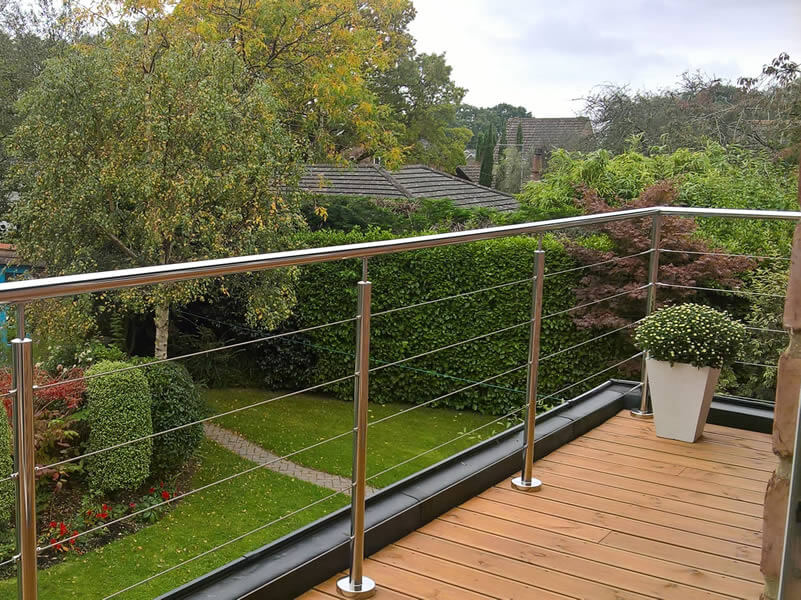 The barely-there and almost unnoticeable wire rope is stylish, sturdy, and contemporary. The minimalistic wire rope is perfect for patios, porches or balconies and it gives your outdoor space a chic modern industrial feel without interrupting any views.
Our Wire Rope balustrade system features made-to-measure stainless steel posts connected by wire rope infill with a cylindrical top rail. You can specify the number of rows you would prefer, and we will manufacture the system to your needs.
Classic charm
You can't go wrong with a classically shaped glass balustrade for your patio. The geometric design of our Square Tube system works well with garden areas, desking areas, and balconies all year round.
Our Square Tube glass balustrade system features customisable steel posts and glass panels as well as an option to add a top rail. You can choose frosted or clear glass panels and satin or mirror finishes.
Clean and crisp
One of our top sellers, the Professional glass balustrade, is perfect for patios that require a modern, clean, and crisp look. This system includes a handrail that provides additional safety and comfort.
Just like our other balustrades, you can customise our Professional balustrade system with mirror or satin finishes and clear or frosted glass in a range of sizes.
When choosing balustrades for patios there are some minimum height regulations to adhere to, but experienced professionals will consider all the unique requirements of your property and patio.
SHS is an accredited manufacturer, supplier, and installer of glass balustrades for both exterior and interior purposes. We can design and manufacture custom-tailored designs and our team will ensure the balustrade systems meet building regulations.
Use our instant online quoting tool to calculate a price set to your specifications.
---
Comments