Our biggest Juliet balcony sale: 30% off our Steel Juliet Balcony
If getting a steel Juliet balcony railing has been on your mind lately, now is the time to buy. Take advantage of our biggest sale yet and get 30% off your steel Juliet balcony order.
The offer can only be used for new orders and cannot be used in conjunction with other offers or discounts. Available until the end of December.
The benefits of choosing our Steel Juliet balcony railing:
Our steel Juliet balcony is ideal for placing across a raised window or door opening to create a balcony effect. The steel Juliet balcony railing is cost-effective, long-lasting, durable and can be delivered to your door ready to be installed for a small charge.
Juliet balconies add essential safety so you can have your windows or doors open without the stress of accidents. The railing lets the fresh air and sunlight stream in your space, creating that outdoor-indoor feeling without the cost of undergoing a full balcony extension.
Steel Juliet balcony railings are suitable for both residential and commercial use and can add value to your property. They are compliant with building regulations and created with no gaps greater than 99mm and 1100mm high.
Our steel Juliet balcony comes in four design options for you to choose from:
Heritage
Stratford
Avon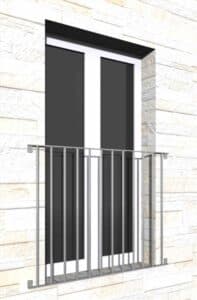 And our wider 2.4mtr range.
All Juliet balcony designs are a beautiful addition to the exterior of your home, they don't stick out too far from the walls and they add an additional layer of elegance too.
Use our contact form online, email sales@shs-products.co.uk or call us on 01922 743 842 to make your order or find out more.
---
Comments