The benefits of steel Juliet balconies
We recently introduced our newest product, steel Juliet balconies. The Juliet balcony is a steel or glass railing that is placed across a window or door opening to create a balcony effect and to add safety.
Juliet balconies have become a more and more common option when it comes to both flats and houses. If you are thinking of adding a Juliet balcony but you haven't decided just yet, read some benefits of using our steel railings to get some insight:
Safety
Safety is the main benefit here, whether you are choosing glass or a steel Juliet balcony railing. Large, raised windows or doors in your flat or home can be dangerous when open, especially if you have young children or pets in your home.
A Juliet balcony railing is ideal for providing safety while you have your doors or windows open in the summertime.
Aesthetic
Steel Juliet balconies add that luxurious and visually appealing add-on to your house or flat. Our steel balconies come in four different designs, which can all complement your home's exterior depending on the design.
For example, our Heritage steel balcony would be perfect for a more traditional or period property, and our Avon for a modern flat.
Heritage
Stratford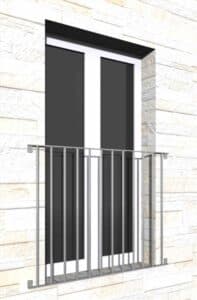 Avon
2.4mtr wider range
Lower cost & low maintenance
Our steel Juliet balcony railing is a more cost-effective alternative to our glass designs and is a great long-lasting solution.
Steel is very resilient, can withstand extreme weather, and is also extremely strong. Steel railings don't bend easily and won't break if, for example, they are hit with something, only if an extreme amount of force is used.
Low maintenance is also a significant benefit. Mild steel doesn't need regular polishing and can easily be cleaned with just soap, detergent or diluted (1%) ammonia solution in warm clean water and a soft cloth.
Adds value to your property
Lastly, Juliet balconies add value to a property as they not only add essential safety but also add a more finished exterior look and create cohesion between your indoor and outdoor space.
Steel balcony railings also don't take away the view of the outdoors. Since they are made with thin steel bars, it's easy to look beyond and enjoy the view with your windows open.
Planning permission is not needed to install our steel Juliet balcony. Our steel Juliet balcony railing is compliant with building regulations and is created with no gaps greater than 99mm and 1100mm high.  They can be delivered to your door for a small charge, ready to be installed.
---
Comments