What is powder coating and why you might need it?
Powder coated finishes provide durability and come in a range of colours. Powder coating looks great on any project and can last for years even with exposure to the extreme British weather. Any of our balustrade systems can be powder coated with any RAL colour of your choice at an extra charge.
The railings, handrails, posts, and other small parts of our balustrades can be powder coated to a flawless finish. Our team takes the time to powder coat our railing systems seamlessly to produce a high-quality polish that will transform your space.
The benefits of choosing powder coating:
There are many benefits of using powder coated railing, but the most important benefit is that the extra layer protects the railings from all elements and gives it extra resilience. This extra durability also comes with the benefit of low maintenance, as the stainless railings and posts will be more receptive to rust in certain areas of the country.
Another benefit for many people is the matt stylish finish that powder coating provides. Plus, the ability to choose a colour makes any railing match whatever décor you have in your home. For example, if you'd like a more elegant look, black and grey are recommended, or if you'd like a minimalistic and bright option, you can pick white.
Choosing a powder coating finish can also save you a lot of money down the line as it keeps your system looking great for much longer.
Here is a stunning balustrade project we installed recently with black powder coated railings and posts: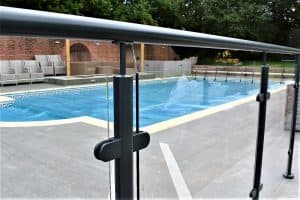 We love giving our customers the options to make their system as unique and personal as possible, and with the choice of powder coating your balustrade in the colour of your choice, you can even match your balustrade to your décor's colour scheme.
Our most popular colours are black and anthracite grey but please enquire for any RAL colour of your liking. Please get in touch with your idea, and we will help you create the right system for your home.
---
Comments